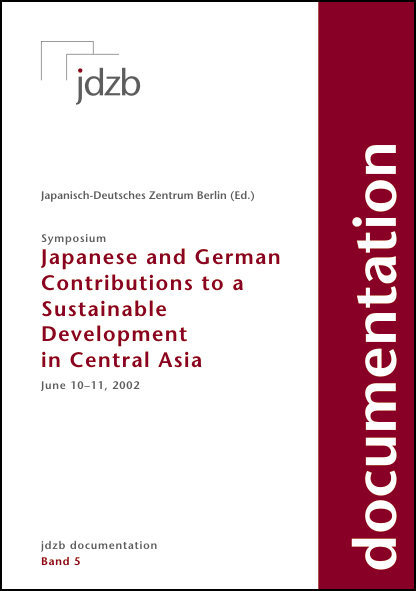 Japanisch-Deutsches Zentrum Berlin (Ed.)

Japanese and German Contributions to a Sustainable Development in Central Asia
Symposium June 10–11, 2002

2003 · 978-3-89129-945-6 · 173 pp., paperback · EUR 27,–
(jdzb documentation Vol. 5)

The topic of our symposium is Central Asia, a region whose geographical definition is not entirely clear. For our purposes here we decided to focus on the four former Soviet republics of Kazakhstan, Uzbekistan, Kyrgyzstan and Tajikistan. After many years of total obscurity, Central Asia now finds itself back in the headlines. I say "back in the headlines," because it occupied this position frequently during the nineteenth century. With the collapse of the Soviet empire the days of colonialism were finally over. Central Asia is no longer a mere chessboard for competing great powers. It is a region with 50 million inhabitants, huge geographical potential, and enormous supplies of raw materials. It is also a region threatened by irresponsible forces, national egoisms, and environmental disasters. Needless to say, the fate of Afghanistan, only recently liberated from a sinister and irrational regime, remains crucial for the entire region. Stability, therefore, cannot be achieved by economic development alone. Our efforts also need to be focused on conflict prevention and the establishment of civil societies. We need to support a new understanding of the role of government. We need to encourage private investment, but also to see to it that privatization does not squeeze out the poor or further damage an already fragile environment. We need to re-examine the anatomy of subsidies. We need to define the sometimes controversial role of business. In short, we need to make development sustainable, lest it compromise the ability of future generations to enjoy the same level of welfare and freedom as the present generation.
CONTENTS
Volker Klein: Foreword · Shioya Takafusa: Opening Address · Colin Dürkop: Opening Address · Thomas Matussek: Keynote Address: Germany and Central Asia · Nomura Issei: Keynote Address: Looking for Japan-Germany Cooperation in Central Asia

Part 1: Political Aspects—Towards Stability in Afghanistan and Central Asia

Bulat Sultanov: Political Aspects of the Route to Stability in Central Asia · Shimizu Manabu: Towards Stability in Afghanistan and Central Asia—The Japanese Approach · Ulrich Brandenburg: Political Aspects Towards Stability in Afghanistan and Central Asia

Part 2: Economic Aspects—Towards Economic Development of Each Country in Central Asia and Regional Cooperation

Siroj Azizov: Central Asian Transport Infrastructure: Present Condition and Tendencies for International Cooperation · Mouzaffar Olimov: German and Japanese Support for Sustainable Development in Tajikistan · Murat N. Suyunbaev: Factors Concerning the Integration of Central Eurasia · Per Fischer: Development Tendencies of Central Asian Financial and Banking Systems After Eleven Years of Independence · Heinrich Sobottka: Siemens in Central Asia · Uwe Ohls: Development of the Socio-Economic Situation and Reform Policy—Approaches of German Financial Cooperation in the Region · Nakayama Ky

ôko: Japan Giving Aid as a Partner— Focusing on Experiences in Uzbekistan · Prianka Seneviratne: Towards a Road Transportation and Trade Facilitation Strategy for Central Asia

Part 3: Civil Society, Human Security

Rainer Goerdeler: Keynote Speech: The Central Asia Strategy and the Dialogue Between the Partners · Wilhelm Höynck: Civil Society, Human Security— The Role of the OSCE · Mushak

ôji Kinhide: Human Security in Central Asia—Proposition for a Security Assessment System · Maulen Ashimbaev: The Situation in Central Asia after September 11 in the Context of the Region's Security · Maruf Usmanov: Civic Society and the Law-Based State as One of the Conditions Necessary for Protecting the Rights of the Individual · Heinz Bühler: Civil Society and Human Security

Policy Recommendations
Abbreviations
Program for the Symposium
List of Participants