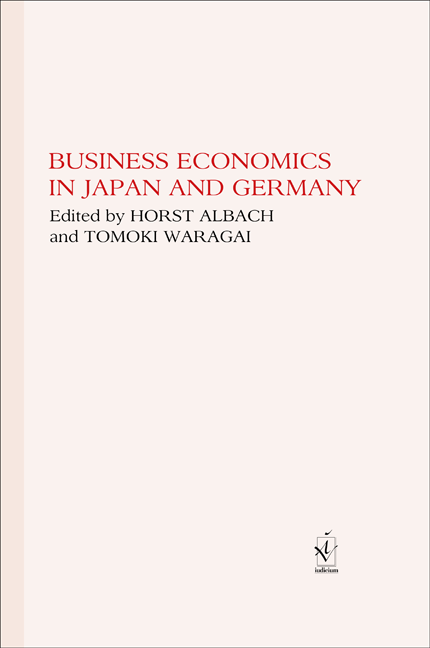 Albach, Horst / Waragai, Tomoki (eds.)
Business Economics in Japan and Germany

2015 · ISBN 978-3-86205-432-9 · 265 S., geb. · EUR 42,—
In this book the editors present Japanese and German contributions to common fields of interest in management. Part 1 discusses corporate ethics across cultural boundaries. Entrepreneurial policies and efforts to guarantee sustainability of our precarious world are analysed, and energy supply is not only part of sustainability but has also become the core of adequate risk management of the firms.
The financial crisis of 2008 et seq. is the subject of part 2. Critics request more transparency in transactions on the capital markets. More transparency means better accounting regulations and improved financial statements.
Ever since Gary Becker introduced the notion of learning and of human capital into the production functions of neoclassical economics, human capital has become a major field of research in management science. The contributions in part 3 report on personnel economics in Japan and Germany.
The papers in part 4 review the impact of Gutenberg's theory on teaching and practicing management in Japan. Springer Publishers published 24 editions of the "Foundations, vol. 1". All three volumes were translated by Japanese scholars. Two papers in this part of the book present new interpretations of Gutenberg's work and deal with misunderstandings of his theory.
In the final part readers find an example of close cooperation in developing the field of a comparative theory of the firm.
CONTENTS
Part 1: Global Topics of Management
Corporate Ethics in a Global World (Koichiro Hioki) · The Fostering of Socially Trustworthy Companies and the Role of Top Executives – A Pathway from Unstable to Stable Companies in Japan (Mitsuhiro Hirata) · Trust in the Firm: Some Remarks on the Mathematical Economics of Trust (Horst Albach) · Is Sustainability Relative? – Considering the Application of Baseline Concepts in Sustainability Management (Peter Letmathe) · Energy, Infrastructure and Society: Challenges for Japan (Tomoki Waragai)
Part 2: Finance and Accounting
Financial Statements in Japan – The Japanese Financial Reporting Regulation (Katsunori Mikuniya) · Evolution of Financial Reporting Standards: A Perspective from German Accounting Theory (Alfred Wagenhofer) · Japanese Banks and the Global Market Crises (Kotaro Fukudome)
Part 3: Human Capital
Human Resource Economics (Dieter Sadowski) · Japanese Employment Practice: An Enquiry into its Nature and its Problems to Seek Possibilities of Innovation in Human Resource Management (Toshio A. Suzuki) · German-Japanese Relations in Business Administration (Eduard Gaugler) · Are Managerial Salaries in Europe consistent with Tournament Theory? (Steffen Brenner and Joachim Schwalbach) · Knowledge Structuring Tools for Technology Management: An Overview of Citations, a Basic Approach (Ichiro Sakata)
Part 4: Theory of the Firm
Eugen Schmalenbach and the Leipzig School of Commerce (Andreas Pinkwart) · Erich Gutenberg and the Theory of the Firm in Japan (Kyoichi Futagami) · Gutenberg's Theory of Growth: The Adaptation System (Wolfgang Lücke) · Theory of the Firm: Erich Gutenberg and Misunderstandings of his Theory (Horst Albach)
Part 5: Cooperation in Research
Twenty Years of Cooperation in Research (Tomoki Waragai and Horst Albach) · Analysis of Efficiency Change Processes – An Analysis Example Using the Kaisha-Database (Tomoki Waragai)