Japan und Ostasien
Germanistik /
Deutsch als Fremdsprache
Kulinaristik
Kulturwissenschaften

Senden Sie Fragen oder Kommentare zu dieser Website an:
info@iudicium.de
iudicium verlag
Copyright © 2012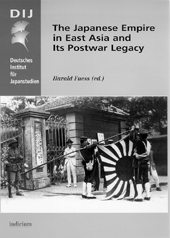 Fuess, Harald (Hg.)
The Japanese Empire in East Asia and Its Postwar Legacy

1998 • ISBN 978-3-89129-502-1
253 S., geb. · EUR 45,-
Monographien aus dem Deutschen Institut für Japanstudien, Bd. 22
Scholars from Europe, Asia, and the United States evaluate the historical significance of Japan's empire in the context of times shaped by imperialism, nationalism, totalitarianism, modernity, and war. Eschewing simple generalizations, they explore new primary sources to present multilayered views of various aspects of Japan-East Asia interactions. The articles are grouped into three broad themes: the domestic foundations of Japanese imperialism, the workings of the Japanese empire in East Asia, and the postwar legacy of the Japanese empire.
The domestic foundations of imperialism are examined by assessing the importance of Asia in the politics of metropolitan Japan, the development and pursuit of visions of pan-Asianism and technocracy, and the formation and maintenance of elite networks to further imperialist goals. The forces in support of anti-Japanese boycotts, conflicts within the Japanese community in China, and sub-imperialist moves toward economic expansion in Taiwan are three topics analyzing the workings of Japanese imperialism in East Asia. Finally, the empire's postwar legacy, especially for postwar Sino-Japanese relations, is discussed in the cases of economic and technical cooperation, Japan's China policy in the early Cold War years, and the process leading to the reestablishment of diplomatic ties between China and Japan.
Beiträge
Duara, Prasenjit: Opening Remarks: Empire in the Age of Nationalism
Dickinson, Fred: Japan's Asia in the Politics of a New World Order, 1914-19
Szpilman, Christopher W. A.: The Dream of One Asia: Ôkawa Shûmei and Japanese Pan-Asianism
Lynn, Hyung Gu: A Comparative Study of the Tôyô Kyôkai and the Nan'yô Kyôkai
Mimura, Janis: Technocratic Visions of Empire: Technology Bureaucrats and the "New Order for Science-Technology"
Gerth, Karl G.: Consumption as Resistance: The National Products Movement and Anti-Japanese Boycotts in Modern China
Goto-Shibata, Harumi: Economic Expansionism and the Military: With Special Reference to the Japanese Community in Shanghai in 1931
Schneider, Adam: The Taiwan Government-General and Prewar Japanese Economic Expansion in South China and Southeast Asia, 1900-1936
Yang, Daqing: Resurrecting the Empire? Japanese Technicians in Postwar China, 1945-49
Braddick, C. W.: In the Shadow of the Monolith: Yoshida Shigeru and Japan's China Policy During the Early Cold War Years, 1949-54
Glaubitz, Joachim: Japanese Relations in Northeast Asia: China and Soviet Interference