Japan und Ostasien
Germanistik /
Deutsch als Fremdsprache
Kulinaristik
Kulturwissenschaften

Senden Sie Fragen oder Kommentare zu dieser Website an:
info@iudicium.de
iudicium verlag
Copyright © 2012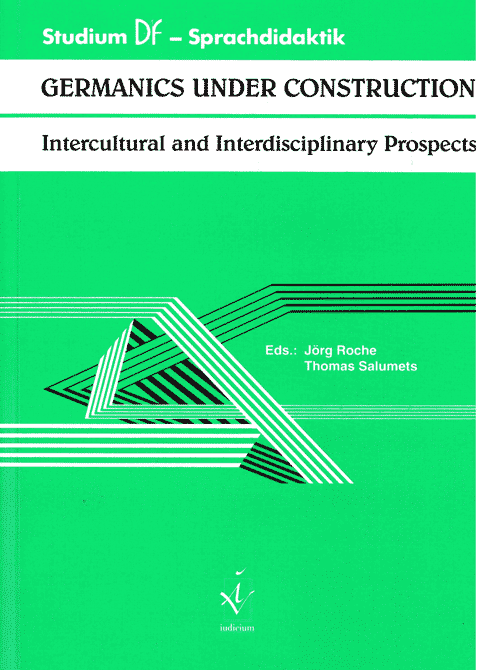 Roche, Jörg; Salumets, Thomas (Eds.)
Germanics under Construction. Intercultural and Interdisciplinary Prospects
1996 • ISBN 978-3-89129-110-8
266 S., kt. · EUR 35,—
Müller, Bernd-Dietrich (Hg.): Studium Deutsch als Fremdsprache - Sprachdidaktik (Bd. 10)
This anthology explores the potential of a discipline that operates in a specific hermeneutic environment with dozens of relatives in North America and around the world, disciplines which are preoccupied with the study of a national culture in a "foreign" country ... The issues raised in this volume are by no means unique to "Germanistik" in North America, as the title of the book and the academic background of most of its contributors may suggest. The issues raised here are not only equally relevant for any other kind of "Auslandsgermanistik" and those who study and teach it, they relate to the study and teaching of any "foreign language and literature" because of the similar environments and working conditions ... The selection presented in this volume offers invaluable insights into the issues to anyone who is preparing or continuing to work in this academic field.
Beiträge
Gilman, Sander L.: Introduction: "A Near Future at the Millennium"
Thomas Salumets / Jörg Roche: "Germanics under Construction: An Introduction"
Michel, Andreas: Models of Interdisciplinary and Intercultural Studies: "Theory in German Studies"
Keller, Thomas: "The Discovery of Asymmetry: Non-Reciprocity as a Paradigm for Intercultural Studies"
Thomas Nolden / Claire Kramsch: "Foreign Language Literacy as (Op)Positional Practice"
Sabalius, Romey: "Exile Studies as Interdisciplinary and Transnational German Studies"
Hufeisen, Britta: "German Applied Linguistics: A New Didactic and Methodological Approach"
Pollard, Matthew: "Hot Nietzsche: Or, "Der Übermensch" Goes to Hollywood"
Macki, Erik J.: "Semantics and the Ideological Lexicon of German (Dis)Unity"
Mc Clintick, Christopher: "Reimagining Parzival: Contemporary Forms of a Quest for Ontological and Cultural Meaning"
Taubeneck, Steven: "Nature, Postmodernity, and German Studies: The Case of Clayoquot Sound"
Webber, Mark J.: "Changing Places: Student Exchange Programs and Interculturality"
Maria-Regina Kecht / Thomas Strack: "Intercultural and Communicative Aspects in the Languages for Special Purposes Curriculum: German and Engineering at the University of Connecticut"
Anderson, David R.: "German and Science: An Interdisciplinary Model"
Prokop, Manfred: "A Survey of the State of German Studies in Canada"