Japan und Ostasien
Germanistik /
Deutsch als Fremdsprache
Kulturwissenschaften

Senden Sie Fragen oder Kommentare zu dieser Website an:
info@iudicium.de
iudicium verlag
Copyright © 2012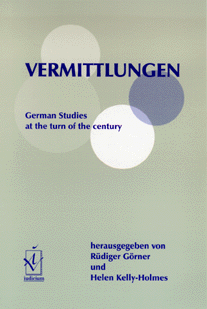 Görner, Rüdiger; Kelly-Holmes, Helen (Hg.)
Vermittlungen. German Studies at the turn of the century
1999 • ISBN 978-3-89129-621-9
279 S., kt. · EUR 40,-
Die Germanistik befindet sich, wie nahezu alle Geisteswissenschaften, weltweit in einem Legitimationszwang. Nigel B. R. Reeves, dem dieses Buch gewidmet ist, beschreibt Sinn und Wesen der German Studies und ihren operativen Charakter: "Ein Ziel der Germanistik im Ausland muß es sein, daß die Studenten in die Lage versetzt werden, in dem deutschsprachigen Raum effektiv zu handeln. Das ist keine Verneinung des Bildungsideals eines Humboldt oder eines Goethe, sondern Wissenschaft im Dienste der Bildung, und Bildung im Dienste des Lebens." "Vermittlung" ist das Stichwort dessen, was Nigel B. R. Reeves so eindrucksvoll und umfassend versucht und umgesetzt hat: eine Vermittlung zwischen den Disziplinen, aber auch zwischen den Kulturen.
Beiträge
Marquardt, Hans-Jochen: Auf dem Felde der Ehre - Heinrich von Kleist, Nation und Vaterland
Swales, Martin: Schiller, Verdi, Wagner: Opera and the tragic Mode in the nineteenth Century
Görner, Rüdiger: The End-Game of Aesthetics. Nietzsche's reading of Schiller's theory of aesthetic education in the light of our experience
Brix, Emil: German writers in Prague around 1900. Austrians or Germans?
Ridley, Hugh: Does it ring a bell somewhere? A gap in the century of social-historical criticism on Buddenbrooks
Payne, Philip: Robert Musil's Der Mann ohne Eigenschaften seen from the perspective of his Tagebücher
McCulloch, Derek: The Earl of Abingdon and Haydn. An intriguing episode in Anglo-Austrian Cultural Relations
Flood, John L.: Ginger Beer and Sugared Cauliflower. Adolphus Bernays and Language Teaching in Nineteenth-Century London
Sagarra, Eda: German studies in Ireland: history and reminiscence
Barbour, Stephen: "Dialects" and "languages" revisited. The relevance of translation studies to sociolinguistics
Woods, Roger: The Culture of the New Right in Germany Today. New Start or Same Old Story?
Frowen, Stephen F.: Wege zur europäischen Integration - Eine kritische Betrachtung aus nationalökonomischer Sicht
Koch, Karl: Area Studies, Languages and Globalisation - New Challenges
Head, David: "A very English car - made by Germans": BMW's takeover of Rover as seen by the British and German press
Kelly-Holmes, Helen: Grüne Insel, grüner Tiger: Renegotiating a German-Irish Relationship
Dobbelstein, Rainer: Einige Thesen zur Reform der Deutschen Auswärtigen Kulturpolitik
Wallace, Ian: A United Germany in a New Europe. Some British Perceptions
Hoffmann, Hilmar: Der Beitrag der Wissenschaft zum Dialog der Kulturen
: Schriftenverzeichnis von Nigel B. R. Reeves